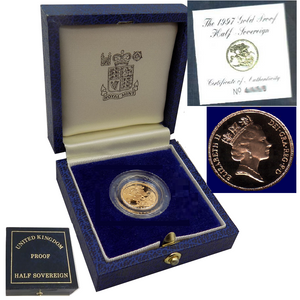 1997 Queen Elizabeth II Proof Gold Half Sovereign + Capsulated / Case / COA
1997 Queen Elizabeth II Proof Gold HALF Sovereign + Encapsulated within Case.
This proof half sovereign is supplied within original Royal Mint Capsule, and we have supplied an authentic Royal Mint case. The coin was originally part of a 3 or 4 coin set, so does not come with numbered COA.

The proof half sovereign differs from the standard sovereign issued or bullion type in that this coin is in perfect proof condition free of finger prints, scratches, and other blemishes. The proof half sovereign is also specially dipped during the the minting process to produce the iconic frosted raised features on both obverse and reverse.

Queen head facing right effigy designed by Raphael David Maklouf, no bullion or currency issue sovereigns of this type were issued. The 'Maklouf' half and full sovereigns are only available in proof versions.
Obverse Legend: ELIZABETH.II.DEI.GRATIA.REGINA.F:D:Milled:
Rev: BP: Benedetto Pistrucci Weight 3.99 grams Contains 0.1177 of 1 Troy Oz Gold
We endevour to keep all years available, the image is of the coin you will receive some years may not be available due to rarity, if you are interested in the rare examples not on offer here, please contact us
Should you not be entirely happy with your purchase you may returned it for a full refund, please see our returns section for more information.