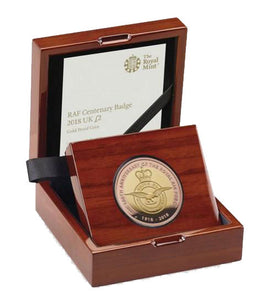 2018 Queen Elizabeth II RAF Centenary 'Badge' Gold Proof £2 - Boxed / Coa
2018 Queen Elizabeth II RAF Centenary 'Badge' Gold Proof £2 - Boxed / Coa
2018 marked the 100th anniversary of the formation of the RAF. The series celebrates iconic aircraft from the history of the RAF, with this coin featuring the RAF emblem of an eagle superimposed on a circlet and surmounted by a crown. The text contains the motto of the Royal Air Force, 'Per Ardua Ad Astra' meaning 'Through Adversity to the Stars'. Each coin in the series has a limited mintage of only 1,000 coins.
£2 TWO POUND - Dia 28.4mm
Weight 15.98 / Gold content .916/1000 - 14.6435 grams

Struck by the Royal mint : Liantrisant
We endevour to keep all years available, the image is of the coin you will receive some years may not be available due to rarity, if you are interested in the rare examples not on offer here, please contact us
Should you not be entirely happy with your purchase you may returned it for a full refund, please see our returns section for more information
.